I've learned that if I can accept the mess and enjoy the process of cooking with my kids, they tend to be more excited to try new things. We've been busy in the kitchen learning how to measure, how to stir gently, how to chop carefully, and how to wait patiently. There are so many life lessons learned in our kitchen. We love hosting friends and family for meals and I am confident the kitchen is always the protagonist in our house. Below are five kid friendly recipes that we tend to make on a regular basis.
1. Dipping Sauce- AKA Ranch Dressing
The sauce is the catalyst to how we get our kids to eat more vegetables. Throw the below ingredients in a bowl, stir, and enjoy! We also love going to our local farmer's markets, to Tacoma Boys, and to the Metropolitan Market to select our yummy veggies. This watermelon radish was a special treat! What are your favorite veggies to dip in ranch?
1/4 cup mayo
1/4 cup sour cream
1 teaspoon dijon
1 teaspoon honey
1/2 teaspoon salt
1 clove fresh crushed garlic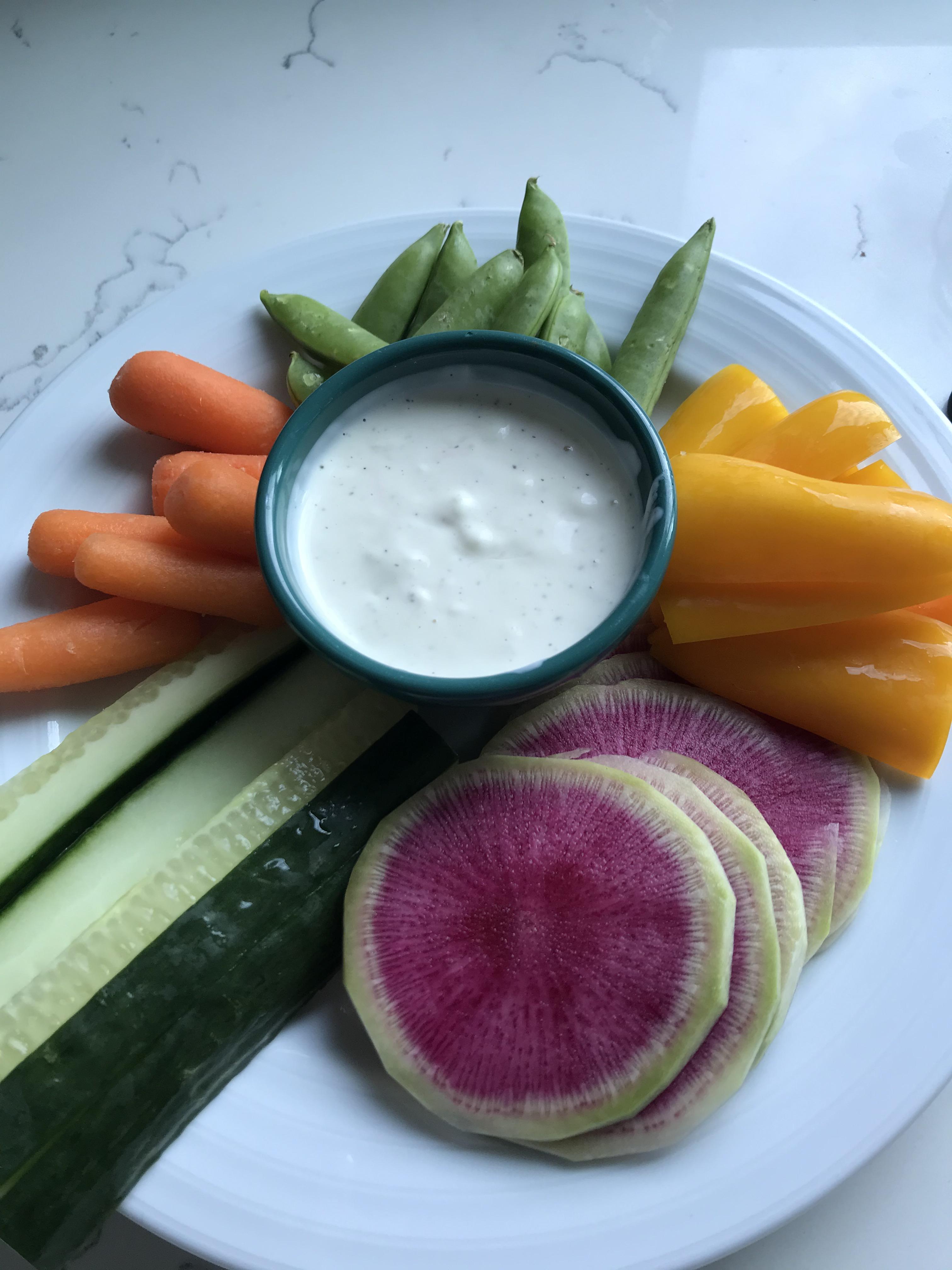 2. Banana Bread Mini Muffins
I turn our banana bread recipe into mini muffins. If I'm feeling tricky I'll blend up some carrots, spinach, kale and toss it into the recipe. Added nutrition without anyone knowing!
2 cups flour
3/4 cup sugar
3/4 teaspoon baking soda
1/2 teaspoon salt
3 large ripe bananas
6 tablespoons butter melted and cooled
2 large eggs
1/4 cup sour cream or yogurt
1 teaspoon vanilla
optional 1/2 cup of chocolate chips, grated carrots, or blended veggies such as kale, spinach, or zucchini.
Heat oven to 350 degrees and grease a mini muffin tin
Whisk the flour, sugar, baking soda, salt in a large bowl.
Smash bananas and stir together with eggs, butter, sour cream, optional veggies or chocolate chips and vanilla.
Fold wet ingredients into dry ingredients. Scoop into mini muffin tin and bake for 15 mins or until golden brown on top or when a toothpick is inserted and comes out with just a few crumbs attached.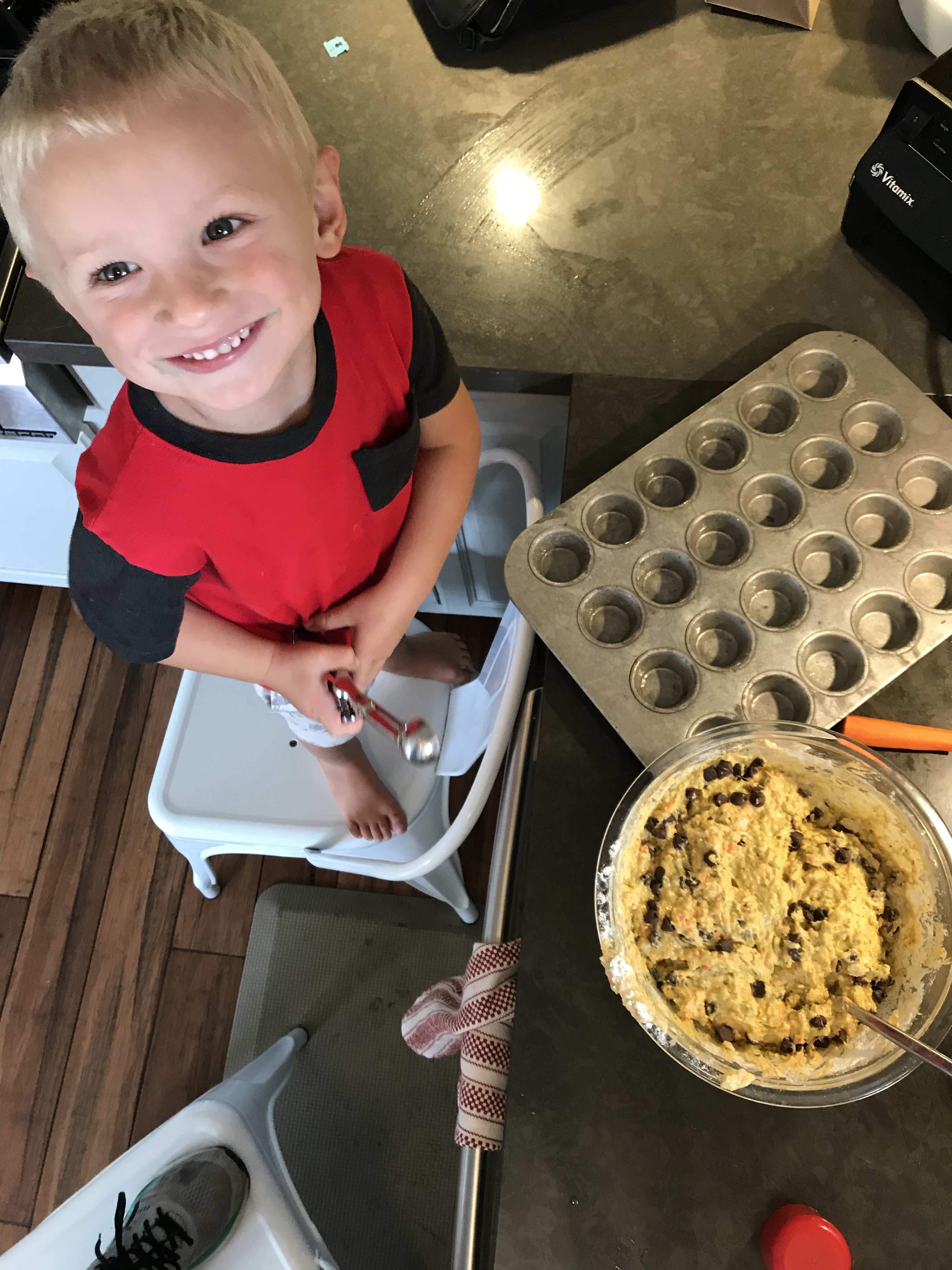 3. Pineapple Coconut Popsicles
Pineapple juice
Coconut Cream
Optional Chopped Fruit
Pour pineapple juice, coconut cream, and chopped fruit into a popsicle mold. Let ingredients fully freeze, pop out the popsicle from the mold and enjoy! Super easy treat for a warm day.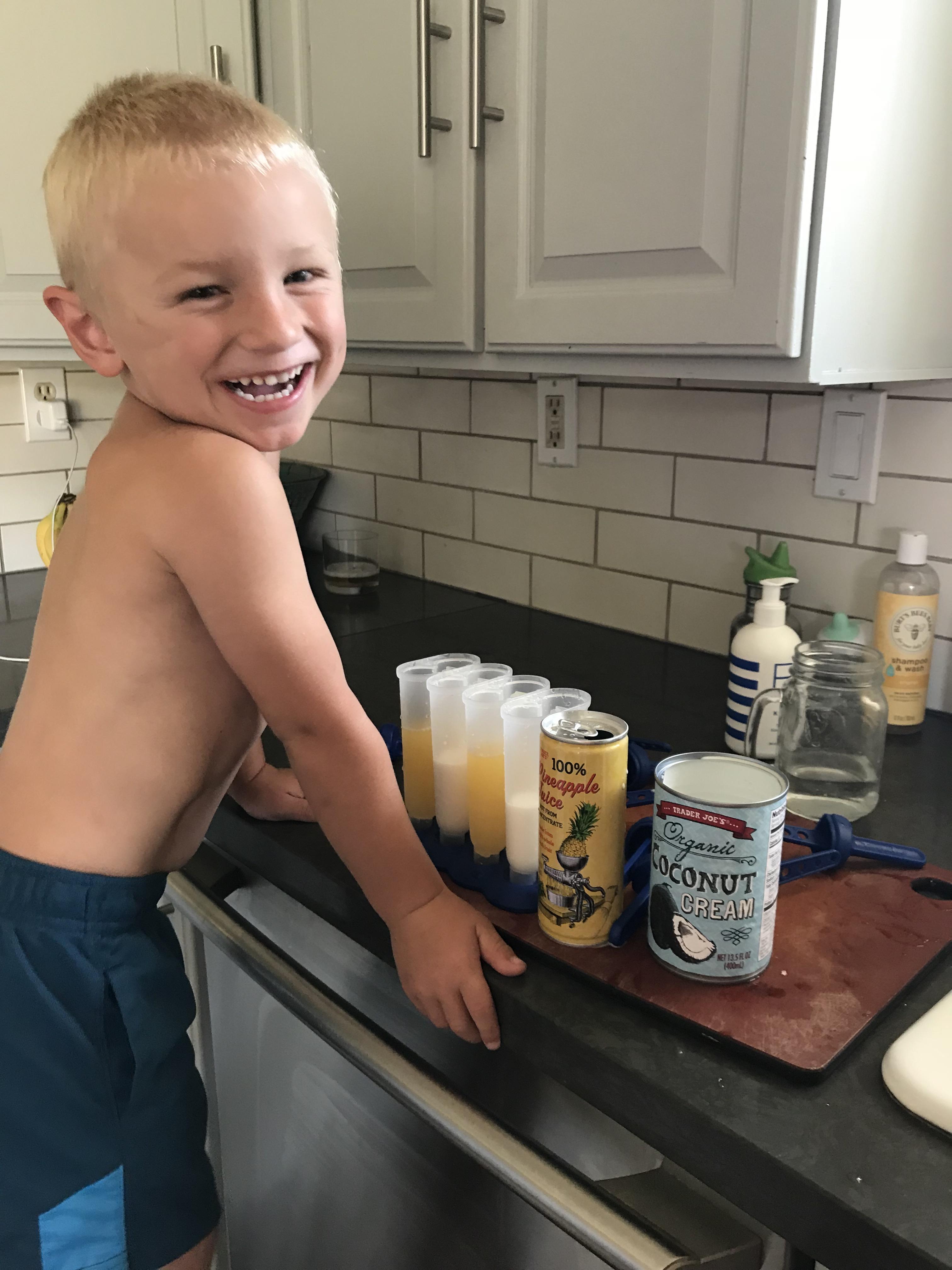 4. Soft Pretzels
These take a bit of time and effort but the savory reward is worth it. They are super soft and buttery yummies.
1 package active dry yeast
1 cup warm water
2 Tablespoons softened butter
2 Tablespoon brown sugar
½ teaspoon salt
2 & 1/2 cups all-purpose flour
4 cups water
¼ cup baking soda
salt to top
¼ cup melted butter to brush on
Use a stand mixer with dough hook attached. Add warm water and sprinkle yeast packet on top. Let dissolve and then add in butter, sugar, and all but 1/2 cup of flour. Mix until dough comes together. Add in remaining flour until the dough pulls away from the sides of bowl. Place in a greased bowl and cover. Let rise in a warm place for 20 minutes.
Preheat oven to 450°F. Line baking sheets with a greased parchment paper.
Punch the dough down a couple times to alleviate any air pockets. Divide the dough into equal pieces and roll each piece into a 12-15″ long rope on a clean counter. Shape and form each piece into a pretzel shape.
In a large pan, bring the water to a boil. Add in the baking soda and Drop a pretzel into the boiling water using a slotted spatula. Boil each pretzel for about 30 seconds, then remove with the spatula draining off excess water. Place on the greased baking sheets and sprinkle with salt. Repeat with remaining pretzels.
Bake the pretzels for 10-12 minutes or until golden brown on top. Brush with melted butter while still hot. Enjoy!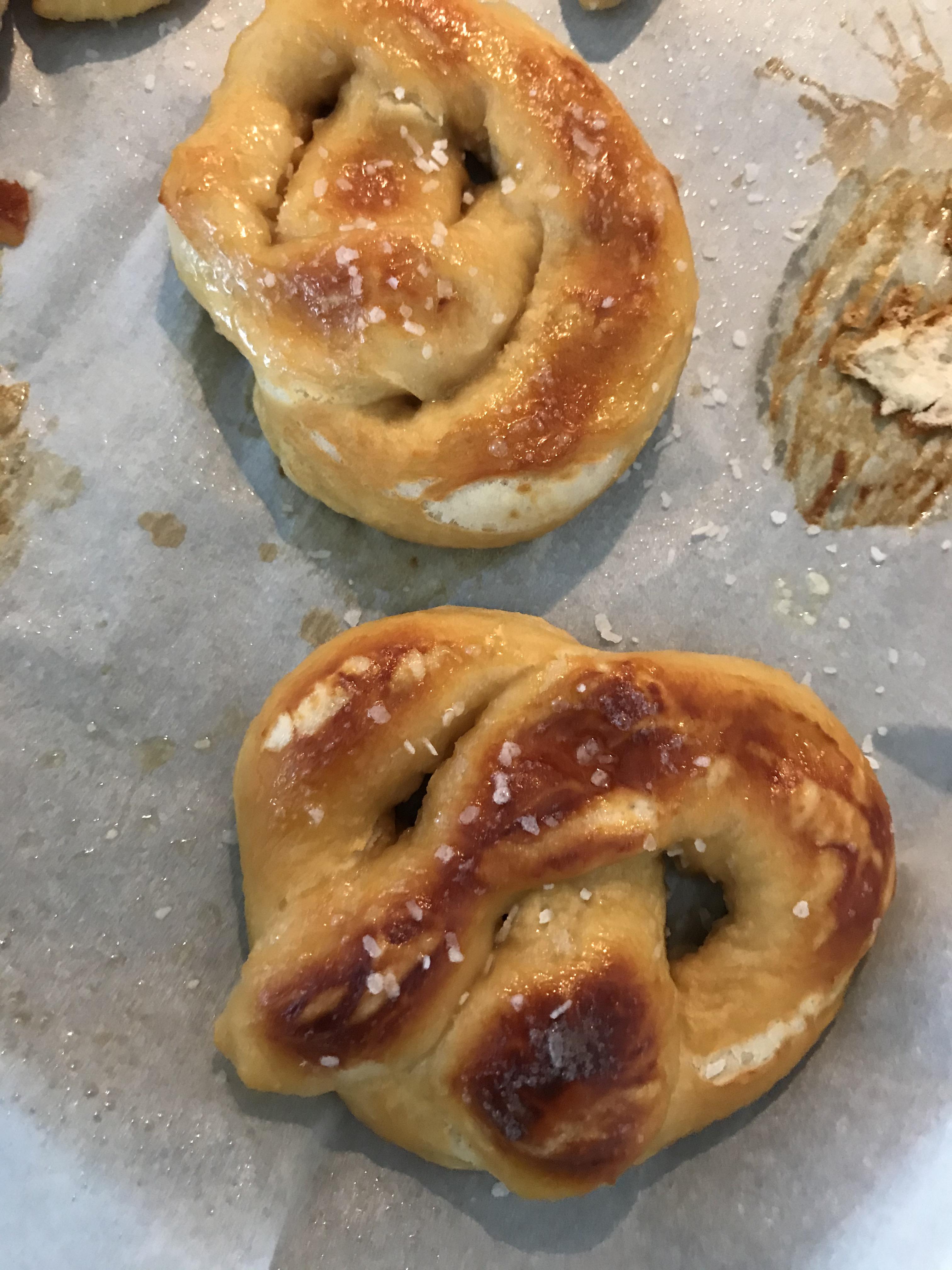 5. Coconut Chocolate Energy Balls
We like to make these and pop them in the freezer for a special hiking treat or a cold sweet treat.
2 1/2 cup oats
1 cup coconut flakes or shredded
2/3 cup honey
1/2 cup coconut oil
1 cup almond butter
2 teaspoons vanilla
6 tablespoons cocoa powder
1/2 cup cocoa nibs
salt for sprinkling
Line a baking sheet with parchment
In a bowl mix oats, coconut shreds, and cocoa nibs.
In a pot over low heat combine honey, coconut oil, cocoa powder, and almond butter. Stir constantly until combined.
Remove from heat. Add vanilla and stir in dry ingredients.
Scoop balls out and place on parchment paper. Throw the baking sheet in the freezer until cold enough to transfer to a zip lock for storage. Enjoy this energy ball on a hike or for a sweet treat.